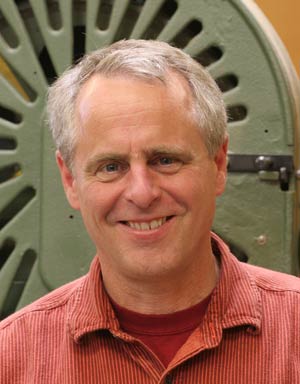 David and his wife, Laura left Iowa in 1982 to take advantage of David's acceptance into classes during the second year of the College of the Redwoods' (C/R) Fine Woodworking Program.
After two years as a student, David joined a co-operative shop which was initially shared by instructors James Krenov, Michael Burns, and Creighton Hoke.The shop at this time was becoming a refuge for another instructor, Robert Lasso, and starry-eyed graduates, the first of them being Reg Herndon. By the time this shop situation was dissolved in 1995, Reg and current part-time instructor Jim Budlong were the remaining tenants.
In April of 1986, David started working for C/R in the gloried role of Instructional Aide, the position he still maintains. He is effectively the secretary, purchasing agent, maintenance crew and back-up instructor for the shop. Although he is not currently making furniture, he finds satisfaction in having a part, however small, in the creation of most of the furniture produced by students. In his weaker moments, he even imagines that he has made some contrubutions to Jim Krenov's work.
David and Jim Budlong have been conducting summer classes at C/R since 1988.
Michael Burns takes great pleasure in reminding David and Laura that their two boys, Jack and Nathan, are native Californians.