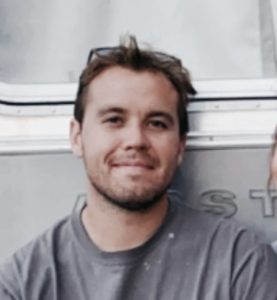 Class of 2022
Fort Collins, CO
Growing up in eastern Colorado, my grandfather introduced me to woodworking in his shop on the family farm. He instilled in me a love and respect for the craft that propelled me into a life of working with my hands.
At Colorado State University, I spent the sunny Rocky Mountain summers wearing a tool belt building decks and winters remodeling houses. After graduation, I traveled to Europe and took short intensive courses in fine furniture making and traditional timber framing. These experiences exposed me to the artistic side of woodcraft, ultimately leading me to enroll at the prestigious Krenov School. And with my darling wife Madi, sold everything, restored an ancient Airstream trailer, and headed to Fort Bragg ready to learn.
I entered the Krenov program to deepen my understanding of wood's potential as well as develop an eye for detail and expertise in fine woodworking.
Training with some of the world's greatest instructors and working alongside incredible classmates has been an intoxicating experience — a draught of discovery, growth, hard work and adventure stirred together with garnishes of laughter, challenge, and beauty.
I will cherish my Krenov training and colleagues for the rest of my days.