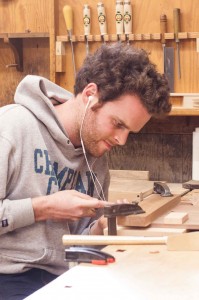 Class of 2014
Oakland, CA
Spiritual homes: Burlington, VT and Oakland, CA
The manipulation of wood has fascinated Al for as long as he can remember.  In lieu of Saturday morning cartoons, he would watch "The New Yankee Workshop" hosted by Norm Abrams and dream of developing a righteous Boston accent while working fine wood.
These dreams started to become a reality starting in high school wood shop classes and culminating in spending his college years in Vermont where he made ends meet as an assistant residential carpenter.
He married a beautiful woman from Maine who has cited his New England accent as "offensive" and "atrocious."
His desire to attend CR was born in that early fascination with wood which has traveled with him across the country.  Martini said, "After reading 'A Cabinet Maker's Notebook' by James Krenov, I knew I had to visit the school which wasn't that far from my home in Oakland."  He continued, "After visiting the school, I knew I had to attend this program, not only to glean unique and invaluable woodworking knowledge, but to join that beautiful and congenial community."
Though living currently in Fort Bragg for the program, the couple is currently headquartered in Oakland, CA.