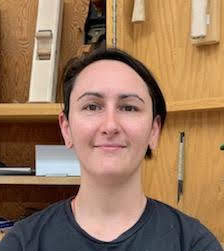 Class of 2020
Los Angeles, CA
I have always loved working with my hands, and was introduced to woodworking at a young age. As an adult I pursued a career in software development because that's where the money is, but money wasn't enough. I needed to make something physical.
I rediscovered a love for woodworking through the local Los Angeles maker community and Allied Woodshop. I eventually left the desk job life and got a job at a local Los Angeles lumber yard Angel City Lumber, continuing my studies at Cerritos College.
The Krenov School was always on my mind, and I feel honored to be learning and cutting wood in such a beautiful and intense environment. My goals while at school are to refine and advance my woodworking skills while taking in the breathtaking nature all around me.